Power asset performance and human safety in heavy equipment industries
Leverage intelligent workflows for uninterrupted asset uptime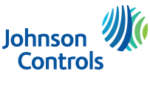 Asset-centric organizations face two major challenges that bear significant impact to their operations:
east
Productivity and compliance
Maintaining asset uptime is a constant consideration due to high financial costs of going offline. Additionally, ever-changing environmental, health, and safety (EHS) mandates require industry operators to remain agile enough to pivot as regulatory pathways evolve.

Intelligent, adaptive workflows help field engineers perform their best work while following compliance procedures, all in one intuitive package built with a technician-first mindset.
Elevators
When millions interact with your equipment every day, human safety goes to the top of your list of priorities. Ensure your assets are performing optimally, at all times, to prevent risk to the public and your field teams.
HVAC
HVAC industry's primary concern is compliance in dealing with highly regulated substances such as refrigerant to maintain worker and public safety. Build compliance into your technician workflows to satisfy these needs.
Utilities
No industry has greater visibility of asset downtime than the utilities sector. Keep power flowing to your customers and be ready to respond to emergencies and outages.
Construction
Industrial construction expands the global economy with new factories, power plants, and other specialized facilities. Enable your crews with field intelligence to meet construction milestones while ensuring their safety on the job.
How we help your technicians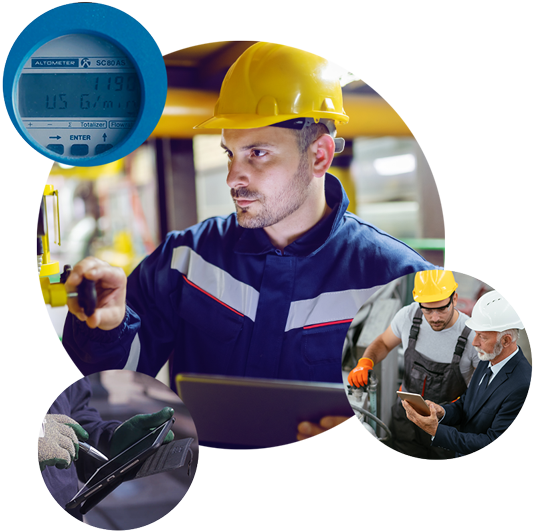 Predictive/preventative maintenance
Collect rich asset service data to feed predictive maintenance processes, while producing proof of service documentation for SLAs.

Health, safety & environment (HSE)
Monitor and enforce standards to keep technicians safe. Ensure procedures are followed correctly to avoid onsite accidents and work stoppages.

Asset inspection
Increase asset uptime with inspections that leverage context and intelligence directly in the hands of your techs.

Audits
Empower techs to effortlessly record a thorough digital record of compliance activities for seamless audits.

Installation
Mandate installations within compliance requirements with custom questions and tailored installation workflows.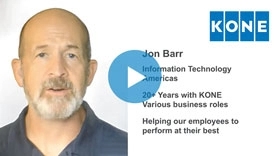 "We wanted to make gathering data out in the field with customers, with our field employees, out on our job sites, dead easy. It had to be done quickly, had to be done efficiently, and it had to be done accurately."
Jon Barr
CIO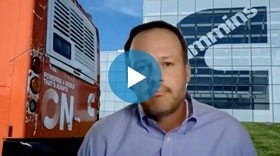 "I don't care if you've been with the company for 30 years or 30 days. Seen this a hundred times or you've never seen it, here's the way we need you to walk through the process to get to the solution quicker and more accurate."
Ryan Tidd
Engine Operations Capability and Innovation Director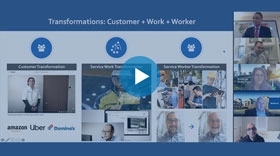 "Technicians don't want to do paperwork… What makes them happy and satisfied is actually solving customer problems, fixing things, deploying the skills they worked and trained very hard to obtain […] A happy employee translates into a happy customer"
Karin Hamel
VP, Services for Digital Buildings

Bridge the gaps between your current systems and the field
Ensure detailed asset information is pre-filled in-form before the technician starts the service call. Use IT-approved point-and-click integrations or API/web hook functionality to pull live contextual data from your systems of record, EAM, APM, FSM, IoT, and cloud systems. Or, pre-load data like job location, directions, contextual asset history, and asset readiness for offline use in the field.
Make unnecessary repeat visits a thing of the past
Ensure techs arrive on-site with context and intelligence built into their work processes to complete jobs on the first visit. Have jobs that span more than one site visit or technician? Use our Teamwork feature to reassign work in progress including jobs that span multiple shifts or time periods.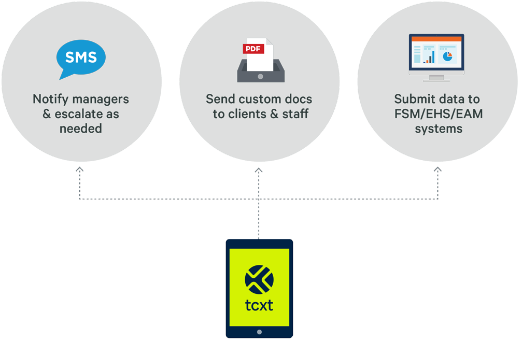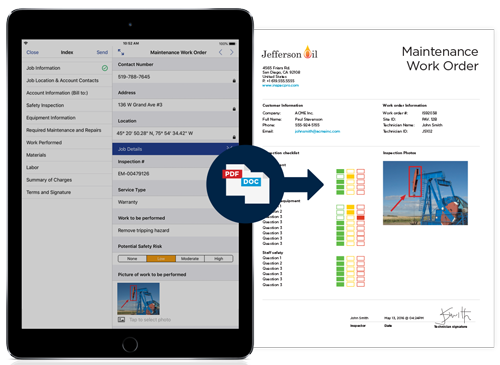 Provide stakeholders with complete, detailed visibility into assets
Get closer to your stakeholders and ensure transparency with detailed customer or asset-specific reports (PDF, Word, XLS, JSON, XML, CSV, and HTML) sent from the field to inboxes in real-time.
Become a customer satisfaction wizard
Send web-hosted customer-facing forms to gain visibility into an asset and site before a technician arrives and track customer satisfaction after a tech departs. Customers can submit images to show worksite details, required maintenance, or proof of a defective or damaged asset. Supervisors and team leads can include images for a customer to review and approve as proof of delivery or completed work.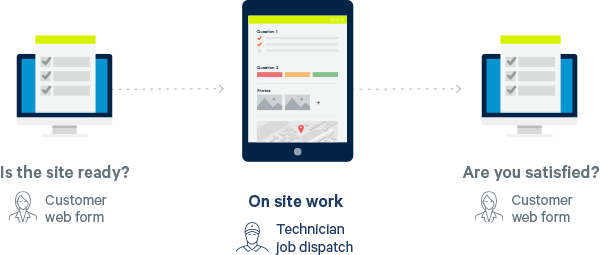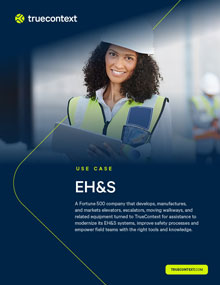 USE CASE SPOTLIGHT
Fortune 500 elevator manufacturer fully modernizes its EHS systems
Discover how TrueContext helped the company simplify its JHA process, increase compliance, reduce repeated work, and more.
The field team platform leader for heavy manufacturing
Get a demo and start a trial today.
By submitting this form, you agree to our privacy policy.