Go farther with your digital transformation
Leverage our expertise in workflow automation. Digitize at speed and at scale.
Not all technology transformation efforts are created equal.
east
Design your business transformation for success with TrueContext deployment services.
Global organizations allocate a tremendous amount of resources toward digitizing their tools and processes. And yet many are unable to realize the benefits they expected for several reasons. The most critical of which? Not getting the right support from the very beginning.
15k+
professional services deployments
8
Weeks
average deployment timeframe for 80% of professional services customers
75%
of our major customers choose TrueContext professional services for design, build, and deployment
How we help organizations make the most of their digital investments
Thousands of businesses have realized success through our proven methodology designing, building, testing, and launching mobile applications that streamline workflows, improve efficiency, and elevate the experience for both frontline workers and their customers, all the while improving asset performance and longevity.
Joint Project Kickoff
Meet and align on the project vision, roles, and responsibilities, scope, and timeline.
Discovery
Identify and understand all business requirements: the problem, existing processes, and intended value outcomes.
Solution Design
Recommend and agree on proposed solutions while leveraging best practices, product features, and team expertise.
---
Build
Configure a solution to meet your requirements using an iterative and interactive approach.
User Acceptance
Testing Support your UAT user group's learning, validation, and acceptance of the solution.
Launch
Provide elevated support to make your go-live and post-launch adoption a success.
Time to value
Scale faster by leveraging the platform's strong foundation and the expertise of the people behind it.
Designed for the complexity of your business
Deploy a solution that captures that nuance of your field operations, and stay agile as the landscape evolves
Actionable field intelligence
Realize the full potential of data from field assets, engineers, and processes to accelerate your business
Dynamic workflows for your business
Capture the complexity of your field service environment with quick-to-deploy and easy-to-manage workflows. Our team gets you started quickly by helping you build workflows according to your business needs.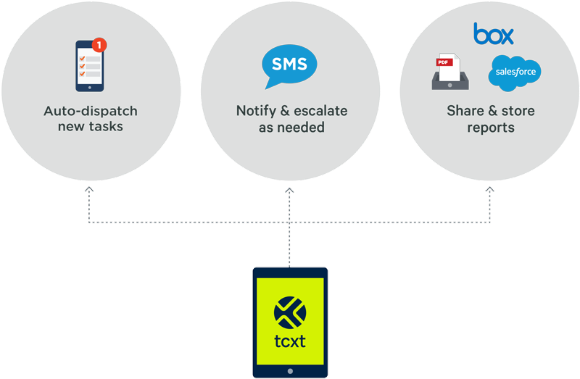 Unified data across your entire tech stack
Let us guide your integration pathways with external systems such as CRM, EAM, and FSM to achieve a single source of truth across your information ecosystem. Stream data where and when it is needed and remain agile through a rapidly evolving technological landscape.
Technician-first field service app
Deploy an app that empowers your technicians to do their best work. Streamline your business processes with help from our capable implementation specialists – and put those improvements in their hands straight away.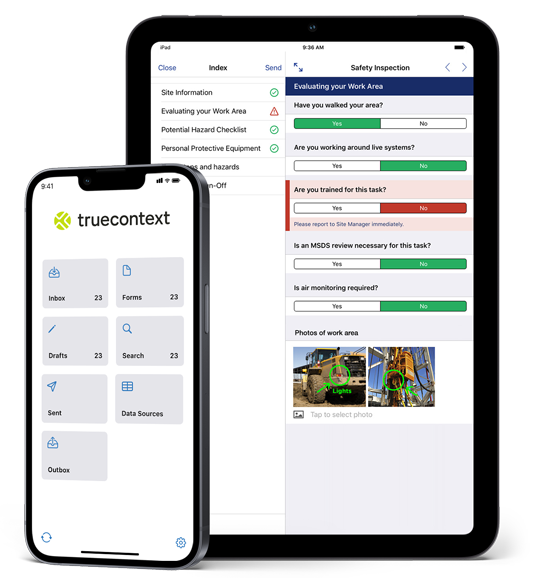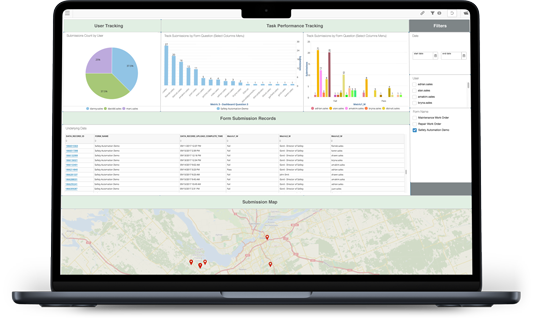 Visibility now, predictability for the future
Leverage the massive amounts of data your field engineers collect every day for operational, regulatory, and workforce efficiency.
Overcome digital transformation roadblocks
A field service platform that meets your stringent IT and compliance requirements

Johnson Controls empowers 7,000+ technicians
Find out how they fundamentally changed how they do business.

Global company reduces admin burden
See how a global company moved away from spreadsheets.

FLNG facility realizes 332% ROI
Discover how this energy facility eliminated paper forms.

[TrueContext] Professional Services is a great partner, helping our Tech Support teams worldwide break through development and deployment barriers. A couple of examples include a consistent methodology to auto-import calibrated tools with cross-functional tool identification and a global standard output process for completed form attachment to the service record. We look forward to additional partnership opportunities.
KEITH OLODORT
GLOBAL SYSTEMS DEPLOYMENT LEAD
ALCON VISION
The [TrueContext] team's professional services have been outstanding in the development and deployment of a very complex program across the country. From concept, development, analytics, and training, [they] have guided the entire path to suit our needs in becoming an industry leader.
CHRIS LOCKEN
Maintenance Process Supervisor
KONE
Our experience with [TrueContext] was outstanding and exceeded our expectations – they fully understood the complexities behind our business and provided an efficient and accurate solution. Our engineers, now, can communicate and complete work processes integrating [TrueContext] with an approval process where many parties and departments are collaborating through their amazing and reliable software solutions.
Alfredo figerosa
Digitalisation Deployment Advisor
SHELL

Ready to unleash productivity?
Get a demo and start a trial today.
By submitting this form, you agree toour privacy policy.