Bring your data management platforms together
Capture the depth and breadth of your field service data through seamless integrations
Data silos create information blind spots.
east
Break down information barriers with a field service platform that unites your existing information systems.
From field service to asset management to customer retention, specialist software allows modern enterprises to automate a significant part of their day-to-day operations. However, having multiple, disparate systems can create data silos that obstruct visibility across your business.
Data
visibility
Keep a synchronized record of everything that happens in the field with bi-directional data connections.
Field team
support
Arm your engineers with the information they need to manage the rising complexity of the field service.
Process
efficiency
Have all the operational data you need to evolve your processes ahead of industry standards.
Connect your office to the field
Bridge the gap between your systems of record and the field. Integrate TrueContext with your field service management platform out of the box and deliver data where it's needed.
Use TrueContext as a mobile front-end to your FSM and elevate your data capture capabilities
Equip your field teams with adaptive work guidance based on job and asset data
Gain real-time insights for faster, more accurate business decisions
Automate worker and public safety
Make safety compliance an integral part of every workflow and protect your workers, customers, and the public from job hazards.
Provide guidance to your teams on the safest way to work, based on data from your EHS platform
Capture data to identify hazards in real time
Generate job safety records for audits and process improvements
Drive asset performance and longevity
Ensure operational excellence by keeping your assets online longer. Stream up-to-date information from your EAM platform directly to your field technicians.
Deliver job resources and asset history to help your teams perform faster, more precise field work
Capture deep asset data for accurate digital twinning
Generate asset intelligence for predictive maintenance and refresh cycles
Dynamic workflows that move with your business
Capture the complexity of your field service environment with quick-to-deploy and easy-to-manage workflows. Power rich data collection for your platform integrations – photos, bar codes, sketches, GPS tags, technician notes, and more.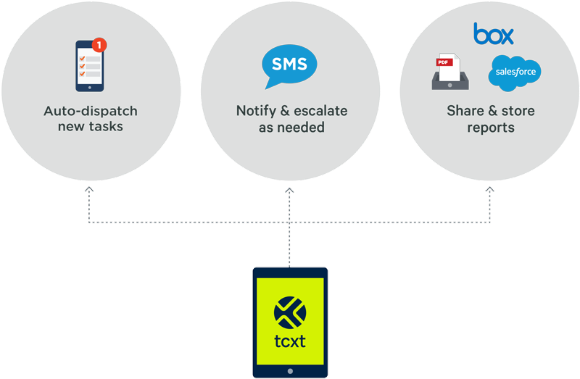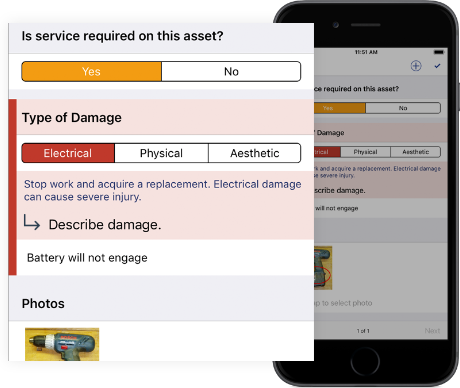 Technician-first field service app
Support your on-the-ground teams by putting the information they need right in their hands. Ensure your integrations collect good data through multiple input methods and automatic app-based validations – all without disrupting your engineers' workflow.
Visibility now, predictability for the future
Route the massive amounts of data your field engineers collect every day to your integrated platforms and march forward with operational, regulatory, and workforce improvements.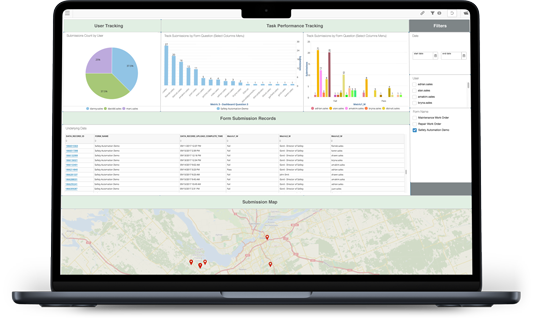 Overcome digital transformation roadblocks
A field service platform that meets your stringent IT and compliance requirements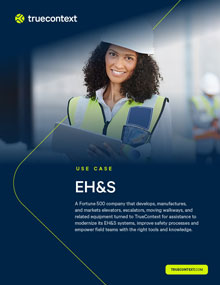 USE CASE SPOTLIGHT
Streamlining public and worker safety in the elevator industry
Learn how a Fortune 500 elevator manufacturer leveraged TrueContext to modernize its EHS management, improve safety workflows, and empower field teams with the right tools and knowledge.

We were doing about 300 inspections per month, on a regional scale. Now that we've implemented [TrueContext], we're doing about 1,300 inspections per month coast to coast.
JASON BLOCH
MANAGER, INSPECTION SERVICES
TANKOLOGY
Many of us who participated in the research and picking a solution were thinking more like a one year timeline. When we were able to go from zero to fully deployed in under a month.
MATT LAMBERT
VP OPERATIONS
PRIMELINE UTILITY SERVICES
In an industry where safeguarding employees and the job site is paramount, [TrueContext] has greatly helped to streamline and speed up our health and safety data collection and reporting.
CHRISTINA LINDSTROM
HEALTH & SAFETY MANAGER
OBAYASHI


Ready to accelerate your business?
Get a demo and start a trial today.
By submitting this form, you agree to our privacy policy.