Recent forecasts predict that the global field service management market will double in value by 2028, growing from around USD 6,161.9 million in just a few short years with a compound annual growth rate (CAGR) of roughly 11.7%. With numbers like these, it's clear that the service industry is on the rise and that there is a need for multi-language workflows.

Although the benefits of going multinational are many, such as increased revenue, doing so also brings several challenges in collaboration and efficiency, especially for service organizations with global branches and diverse teams.
One challenge is ensuring consistency when creating and translating workflows in multiple languages. After all, exceptional service is a universal language–it should look the same regardless of the geographical region for customers and engineers. Fortunately, there's a solution: our new device-based multi-language add-on.

This blog post will discuss the challenges of going multi-language and how our add-on can help. It's time to help your field service leaders, workflow designers, and engineers with an add-on that saves them resources and provides an exceptional service experience.

Device-based multi-language workflows: effortless language breakthroughs
If you're in heavy manufacturing, oil & gas, utilities, or the medical device industry, you most likely have a diverse workforce spread across the globe.
But have you ever struggled to create translated workflows for your field engineers and customers? If so, you're not alone. Many face the same challenge, requiring them to rebuild whenever they need another language. If you change the original, the process repeats, causing additional work and potentially leading to errors.

This new add-on is available for our Advanced and Enterprise tiers and is a separate add-on. It simplifies building by eliminating the requirement to construct different workflows for different languages, tying all submissions together.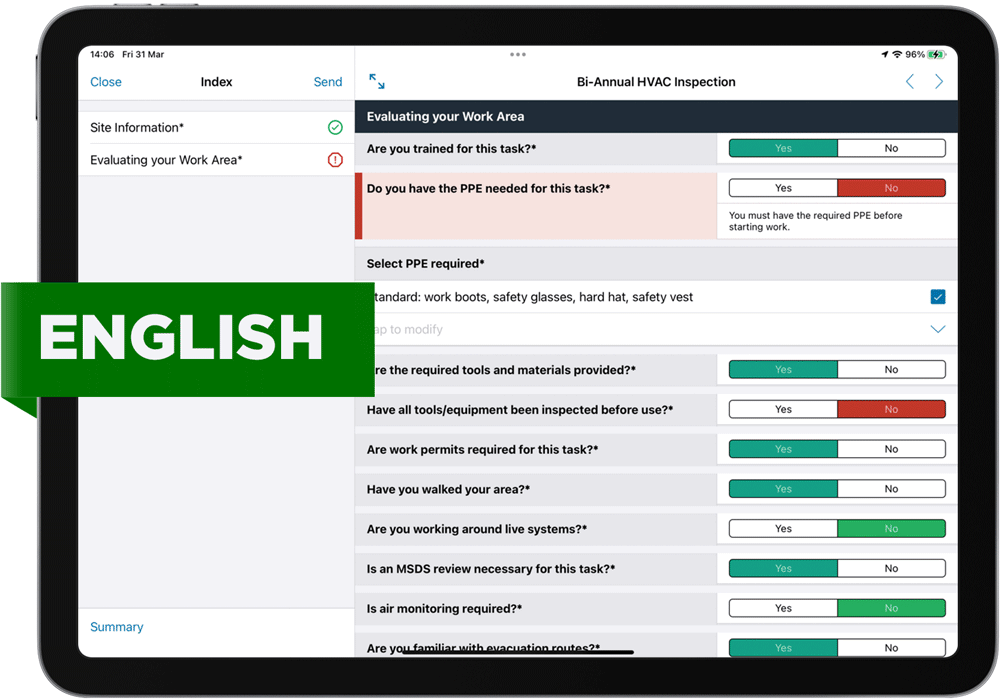 This can benefit your field service organization in the following ways:
It helps businesses with a diverse workforce eliminate language barriers and improve communication and data collection.
It provides consistency and accuracy when creating and deploying translated workflows.
It aids the compliance process by ensuring standardization across regions and languages.

Collaborate, standardize, and streamline
So, you now know that multi-language workflows can help your field service organization. But how does it help your people? Let's break it down into three primary personas:
The field service leader can feel confident knowing that this add-on helps keep their field efficient by saving time and resources. It also helps reinforce standards internationally, maintaining accurate data regardless of capture language.
The workflow designer can save effort by not creating multiple versions when they need to change something, such as when a new compliance requirement comes out. Here, it's easy to push the changes automatically without individual updates. With analytics, comparing data in various languages is much faster and easier.
The field engineer can receive instructions and capture data seamlessly using their preferred language, making them more confident in providing better service. This way, they can enjoy a superior mobile experience that does not disrupt their day-to-day workflows.

Transform your field service org with device-based multi-language workflows
Want your workflows to speak another language? Look no further. This add-on offers effortless building in multiple languages, making communication and data collection a breeze. Say goodbye to tedious rebuilding and version control headaches and:
Eliminate language barriers and improve communication and data collection.
Provide consistency and accuracy when creating and deploying translated workflows.
Streamline the compliance process by ensuring standardization across regions and languages.

Whether you're a field service leader, designer, or field engineer, this add-on saves you time and resources while maintaining international standards and providing a superior mobile experience. Ready to speak the universal language of exceptional service with a breakthrough in device-based multi-language workflows? Visit our product spotlight page to learn more!

Device-based multi-language workflows: some common FAQs
Q: Will I have to rebuild everything to use multi-language workflows?
​A: No. You can enable this on current workflows and translate it into multiple languages without rebuilding.
​Q: How many languages can you support?
A: We support the standard global language list.
​Q: How do I translate my workflows?
A: You will have to translate workflows yourself. Computerized translation (such as google translate) often gets things wrong, specifically regarding technical terminology. Our customers usually rely on Subject-Matter Experts (SMEs) or industry-specific translators familiar with the required translation language and use cases. Doing so helps cut down on mistranslations.
​Q: What about document outputs and language?
​A: Free text answers will be in the same language as all the other answers. We will not change the configuration of the document based on the user language selection. Documents will default to the source language for any non-free text answers.
​Q: Can I set a default language for my field users and bypass the selection screen?
​A: This is something we're looking at for the future. However, for this initial release, outside of app-to-app calls or Teamwork, where you already chose an answer, field engineers will always be presented with a language selection screen when they open a workflow for the first time.
Q: What happens if I make a mistake with multi-language workflows and need to revert to a previous version?
Each time you upload a language pack, the workflow builder creates a workflow iteration; each time you save, it creates a new version. That way, you can safely roll back if you make a mistake.
​Q: Can I switch the language after I open a workflow and fill it out?
​A: In this initial release, no. This function is something we are considering for the future.